Pesarattu

is a popular breakfast dish in Andhra Pradesh. Traditionally it is served with a sprinkle of onions and fresh corriander on the inside, eaten with coconut chutney. This tastes best when freshly made and not a dosa you can stop at one :) Adding upma on the inside adds to the taste and is probably a practice which started off in South Karnataka (more so in Telugu households) to make the dosa more fulfilling.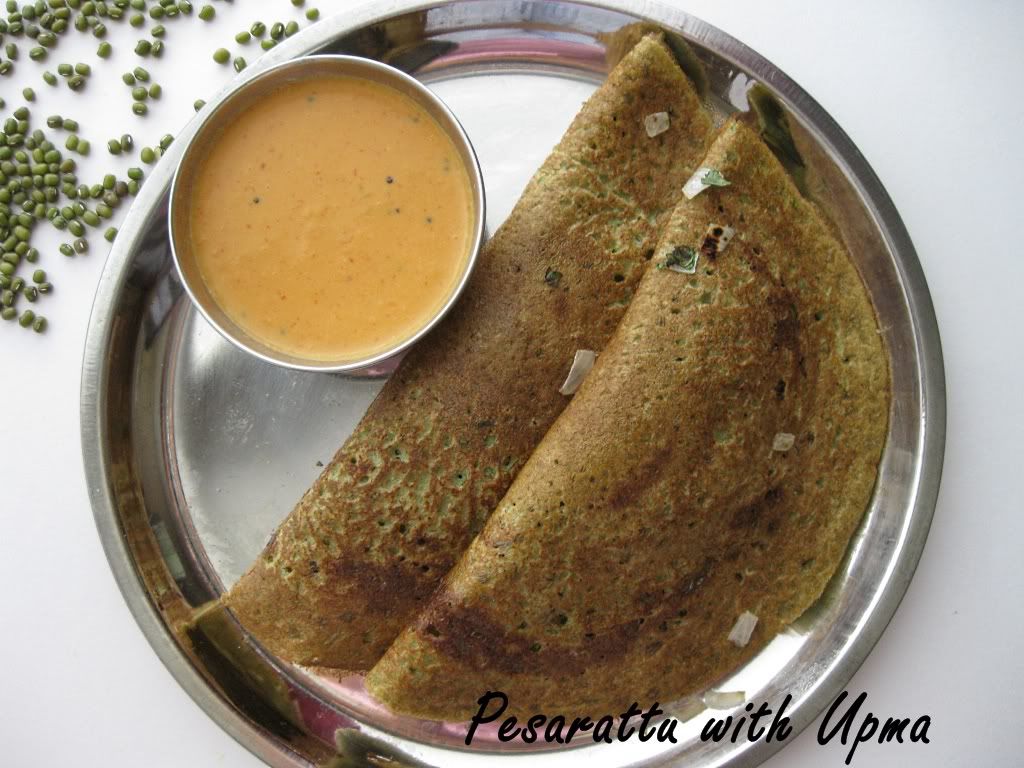 There are two ways of making

Pesarattu

. One with whole green moong dal and the other with split yellow moong dal. The taste of the dosa varies from one another.
I personally prefer the whole green moong, which imparts a nice green colour to the dosa, a change from typical white dosas.


You will need:
For the Pesarattu:
Makes 8-9 dosas

½ Cup Whole green Moong, soaked overnight
3 tbsp Rice flour
6 Green chillies
Salt
For the upma:

2 tbsp Oil

½ tsp Mustard seeds

½ tsp Urad Dal

½ tsp Chana Dal
¼ cup onion, chopped

Few curry leaves

½ cup Semolina, dry roasted

1 cup Hot water

Salt to taste


Pesarattu Toppings: Chopped onions, chopped cilantro
Prepare the Batter:

Grind the soaked moong dal and green chillies with little water to a smooth paste. Stir in the rice flour and salt.

Prepare the Upma: Heat oil in a pan. Add the mustard and when it begins to splutter, add the urad and chana dals. Add the curry leaves and chopped onion. Saute till onion is soft. Pour the hot water and bring to a boil. When the water begins to boil slowly add the roasted semolina while stirring to avoid lumps. Turn heat to low and cook covered for 3 minutes. Add salt. Remove from heat.


To make the Pesarattu: Oil a hot non-stick pan. Wipe the oil with a paper towel. Pour a ladle of batter in the centre and swirl clockwise with the ladle. Drizzle a tsp of oil on top. Top with chopped onions and cilantro.

Cook for 2 minutes and then flip, cook for another 15 seconds. Flip over and place two tablespoons of upma on one half of the dosa. Close the other half over the upma. Remove from heat.
Before making another dosa, wipe the pan with the paper towel. If the pan is oily, then its hard to swirl the batter.
We had our Pesarattus with Garlic chutney.
Make this over a weekend and savour the dosas at your own pace. :)